Treatment
Fractional Microneedling Radiofrequency (RF).
FRACTIONAL MICRONEEDLING & RF RADIO FREQUENCY
( Morpheus8 – ULTRAcel – Focus Dual – Infini RF – Secret RF )
"Micro needling is a highly sought-after procedure that's been shown to produce exceptional results. When paired with focused radio frequency (RF) technology the treatment becomes one of the most advanced non-surgical facelifts on the market. RF micro needling provides instant, long-term results you'll love".
Fractional Micro-needling with RF is a minimally invasive treatment to reduce the appearance of Wrinkles, Scarring, Acne Scarring and Sagging skin and Stretch Marks for all skin types and skin complexion. The addition of Radiofrequency energy to the Micro needling procedure helps to further stimulate the body's natural collagen and healing processes revealing firmer, rejuvenated skin of all skin tones. The treatment involves the use of an array of very fine sterilised tiny needles to create microscopic wounds at various predetermined depths in the dermis, without affecting the epidermis. The delivery of energy leads to the creation of an array of microscopic wounds in the dermis, interspersed between intact tissue. The direct thermal heating of the dermis results in new collagen production and subsequent dermal thickening. The presence of the intact epidermis and the surrounding dermal tissue results in rapid re-epithelialization and thus minimal downtime and risks.
The Fractional Radiofrequency Microneedling device really is a game-changer in the aesthetics industry. It combats deep acne scarring and rejuvenates the skin. It is the skin treatment that everybody is talking about!
Microneedling creates tiny pinpricks on the target area and stimulates the skins natural healing response. Collagen production is increased which plumps out the skin and smooths and tightens its surface. This results in a more even texture, fewer lumps and bumps, and a reduction in pore size.
Unlike some procedures, the Focus Dual can be used on all skin types, so treatments can continue all year round.
How Does (RF) Micro-Needling Work?
The Fractional Micro needling RF handheld device delivers three-layer therapy to predetermined problem zones. The RF energy heats the underlying layers of skin, causing constriction and tightening of the skin, as well as the stimulation of collagen and elastin production at deeper layers of the skin. Treatment levels are adjusted as needed to ensure an optimal outcome with minimal discomfort. Because the RF energy is delivered so deeply, it can produce faster results that are more dramatic.
RF Micro needling uses  a gold plated needle device which gently penetrates the skin to deliver radio-frequency deep into the dermal layers of the skin. The radio frequency heats at depths that provide cumulative and ongoing benefits of collagen stimulation, skin tightening and resurfacing. Your RF micro needling procedure is tailored to your individual needs. While micro needling creates tiny channels to the superficial layers of skin, focused radio frequency wavelengths target the deeper layers.
Benefits of RF MicroNeedling
Micro-needling (also known as collagen induction therapy) is a minimally invasive treatment that has been used for decades to rejuvenate the skin. A device with fine needles or pins creates tiny punctures in the top layer of the skin, which triggers the body to create new collagen and elastin. Results can include improved texture and firmness, as well as skin resurfacing. RF micro-needling adds the element of radio frequency energy to the traditional micro-needling procedure. The RF energy is delivered via small needles into the dermis. In addition to the benefits seen with the micro-injury provided by the traditional micro needles, RF micro-needling also delivers RF energy deep into the dermis further enhancing skin tightening and scar reduction.
Micro needling with Radio Frequency can be the ideal skin rejuvenation treatment for almost any area on the face or body. Whether you'd like to address visible signs of ageing on the hands or tighten lax skin on the abdomen, micro needling can help.
Minimally invasive
Shorter procedure time and downtime
Lower risks such as post-inflammatory hyperpigmentation and scarring
If you're looking for a powerful rejuvenation treatment that produces exceptional results without significant downtime, Micro needling with Radio Frequency may be right for you. This is safe and effective for treatment on the lower face, neck, hands, chest, and more.
Micro needling and Radio Frequency is used to reduce and improve wrinkles, stretch marks, acne scars and generally improve the tone and texture on the skin. Results can include smoother, tighter, more radiant skin. Radio frequency has long been used and is a proven technology. Radio frequency helps stimulate the body's own natural healing processes and stimulates collagen fibres. Micro needling and Radio Frequency give you beautiful, smoother, healthier, younger looking skin.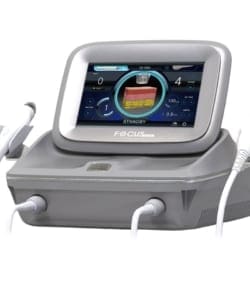 Prior to the RF Micro Needling Procedure
At your initial appointment with Rupesh at London Lip Clinic, we will ask questions about your medical history and expectations. We shall also take photos of your face to determine the best technique for your condition, as well as provide instructions on how to prepare for the procedure.
If you have active acne breakouts, you may be asked to take oral antibiotics. If you have a history of cold sores, you might need to take oral antiviral medication.
During the RF Micro Needling Procedure
Your actual fractional treatments procedure will take place at our London Clinic. Generally, here's what you can expect:
We cleans your skin with alcohol to prevent infection.
They apply a topical Anaesthetic to the treatment area about 15 mins before the procedure. The anaesthetic numbs the area so you won't feel pain.
The micro needling device makes tiny wounds in the skin. Simultaneously, the tip of the needle releases radio frequency waves into the wounds.
The procedure takes 10 to 20 minutes. The exact duration depends on what you're treating.
We apply a growth solution to support cell regeneration. They finish with a soothing solution to minimise any discomfort.
After the RF Micro Needling Procedure
After your procedure, your doctor will explain how to care for your skin. This will include the following aftercare tips:
Apply ice packs to reduce swelling and discomfort.
Wear SPF for several weeks after your treatment. Your skin will be extra sensitive to the sun during this time.
Use antibiotic creams or emollients if your doctor prescribed them.
Use a gentle cleanser after your treatment.
Avoid wearing makeup until the next day. After 24 hours, you can return to your normal makeup and skin care routine.
What does RF Micro needling treat?
RF Micro needling is most commonly used to combat problems in the facial skin but other areas of the body can be treated to reduce the appearance of stretch marks and scars. At London Lip Clinic, we can address a variety of issues with RF Micro needling –
Forehead wrinkles – Fine lines, frown lines, wrinkles and creasing of the skin in the forehead area
Droopy eyes & wrinkles – Loose eyelids, creepy under eye skin, fine lines, wrinkles and crow's feet.
Neck Skin Tightening – Tighten and lift laxity in neck area.
Arm Skin Tightening – The infamous bat wings can be tightened.
Acne Scars – Scars on the cheeks or any other area of the face caused by excessive acne and other ailments.
Sun Damaged Skin – Marks left by excessive sun burn or dark spots caused by repeated sun exposure.
Uneven Skin Tone – brown tone from sun damage or acne issues.
Stretch Marks – most body areas can be treated
Face, Neck and Décolleté
Abdomen
Arms
Legs
Wrinkles
Decolette wrinkles
Loose skin
Double chin reduction
Jawline sculpting
Reduce eye bags
How Long Does It Take to See Results?
Initial results take anywhere from 3-4 weeks as collagen and elastin production are boosted. You'll see a gradual improvement to complexion issues as well as overall skin tone and texture over the course of 6-8 months. Patients can achieve desired and optimal results with 1-3 sessions spaced 6-8 weeks apart. The final results are getting back your youthful appearance.
The results have been shown to last upwards of 2-years in clinical trials. Upkeep treatments may be necessary as the skin continues to age. These treatments can safely be done on a bi-annual basis or as needed to keep skin looking young and fresh.
Does RF Micro needling hurt?
The procedure is relatively comfortable.
Will anaesthesia be used?
Yes, we use a topical anaesthetic for 20-30 minutes before your treatment. The pain associated with fractional radio frequency micro needling may be more than traditional micro needling but is very manageable using standard pain management techniques. Topical anaesthetics like lidocaine, applied at least 30 minutes before treatment, are generally adequate to minimise discomfort during treatment.
How many sessions of RF Micro needling do I need?
We recommend 3-5 sessions done at one month intervals for noticeable results. Each brand of RF microneedling device like Morpheus8, ULTRAcel, Focus Dual, Infini RF & Secret RF has its own guidelines on how many treatments are recommended.
Does it work for acne scars and facial pores? Will the results be visible immediately?
Every client's skin unique, and as such, results and time scales may vary. As a reference, after your first treatment, you should start to see improvements in skin texture and tone. However, it takes time for production of new collagen to form so it may take longer to see significant changes for acne scars and pores. After the completion of all sessions suggested by our professional team, an obvious improvement will start to show.
Is there down time with RF Micro needling?
Downtime is minimal. You may return to your normal routine post treatment. A mild sunburn feeling is common. After treatment the skin may look a little flushed for a short period of time. This treatment is a minimally-invasive procedure that doesn't require any real downtime. In most cases, you'll be able to return to normal activities with minor side effects such as slight redness or swelling. Side effects typically subside within several hours. Sensitive areas like the under-eye can take several days to fully recover. Some patients opt to take a day or two before returning to social engagements. You must avoid the sun and wear a stand alone 30 SPF sunblock at all times. There is a relatively easy recovery and low risk associated with this procedure. We always encourage you to plan accordingly as some clients experience a greater reaction.
Is RF Micro needling safe?
Yes, RF Micro needling is a safe and proven technology to deliver radio frequency during a needling procedure. Some of the most popular machines include Morpheus8, ULTRAcel, Focus Dual, Infini RF & Secret RF.
What are the side effects and risk factors of RF Micro needling?
As RF Micro needling is considered a non-invasive procedure, the risk and downtime involved are minimal. Not just that, even the discomfort involved in RF Micro needling is next to non-existent. One of the most common side-effect felt by most patients is a little skin irritation and redness of the skin. However, typical discomfort of the skin generally last 2-24 hours post the procedure. If you experience any of the below post the procedure, you must consult your doctor:
Bleeding
Bruising
Infection
Peeling of skin
Also, if any of the below mentioned conditions apply to you, you would not be a candidate for RF Micro needling –
Pregnancy/lactation
Auto immune disease
Metal Implants
Defibrillator
Pacemaker
Cancer
Skin disease
Existing viral infections such as shingles and herpes may be activated by the treatment.
How long do the results last from RF Micro needling?
The longevity of your results depend on you. Results will last longer if you maintain proper skin care which includes sunblock every day!
How Many Treatments Will Be Needed?
The number of treatments you should have is something that your doctor will determine after the consultation. In most cases, people will need between one and three sessions, depending on their skin condition. These treatments should be between four and six weeks apart. However, all of this will be discussed during your consultation, as it's impossible to give you an accurate estimation without assessing your skin.
Who Is This Treatment Not Suitable For?
While one of the great things about Morpheus8 is the fact that it is suitable for a wide range of people, there are still some individuals that should not have this treatment, including anyone who/with:
Is pregnant.
Has had Botox within the last two weeks.
Had superficial injections of biological fillers within the past six months.
An active condition in the treatment area. This includes a rash, eczema, psoriasis, and sores. You should also not have the treatment is the area has recently been tanned
A history of diseases that are stimulated by heat, for example, recurrent Herpes Simplex in the treatment area.
Permanent implant in the treatment area, for example, metal screws or plates, an injected chemical substance, or silicone implants.
Internal defibrillator, pacemaker, or any sort of electronic implant, for example, a glucose monitor.
Does RF Micro needling Leave Holes in Your Skin?
Micro needling RF treatment does create controlled injuries in the skin, but it does not leave your face resembling an aerated front lawn. The needle punctures are so small that, unaided, no one can see them, even close up. The effect, however, is that your skin may look flushed, but this passes soon. The purpose of creating these microscopic punctures is to stir collagen growth so you heal faster and look more youthful, which is why you're considering the procedure in the first place!
Is Micro Needling RF Safe and Effective for Areas Around Your Eyes and Lips?
Micro needling RF treatment in the hands of an expert practitioner from London Lip Clinic for these delicate areas is perfectly safe. As a result, several micro needling tools come equipped with special rollers for use in the following sensitive areas:
Your upper eyelid
The eyelashes on your lower eyelid
Around the side of your nose
Your upper lip
Different Micro Needling RF machines in the market. How do they compare?
There are numerous micro needling with radio frequency machines on the market. Morpheus8 is one such brand. What is different between the brands? How do you compare them and what differentiates them from each other? Do they all work in the same way? The answer is NO. They are designed differently. Here, we will discuss how they are different.
Insulated needle versus non-insulated needle
Non-insulated needles will deliver larger area of coagulation throughout the entire depth of the needle, this usually results in slower healing and epidermal injuries from the 'unprotected' needle increases the risk of PIH. The use of insulated needles allows RF energy to be delivered into the dermis, while protecting the epidermis from most of the heat, thereby minimising the risk of PIH ( Post-inflammatory hyperpigmentation )and downtime. By using depths at 0.5mm the coagulation zone almost reaches the epidermis. By doing multiple passes using the different depths, theoretically, the entire depth of the skin can be treated to produce the same volume of coagulation zones as in the uninsulated needle.
Needle – Lengths, the number of needles, the make of needles
Some machines come only in fixed needle lengths, while some allow more flexibility. Flexibility is important as the different areas of the face have varying skin depths from 0.37mm to 2.0mm. Acne scars and hyperhidrosis require deeper penetration lengths as deep as 3.5mm to effectively target the problem areas.
The number of needles are important. When there are too few needles, the needles are more widely spaced apart, resulting in bigger untreated zones between needle-to-needle. However, having more needles does not necessarily mean that it is better as it has to match the motor power of the machines. Too many needles increases the resistance and that would require a higher power motor to drive the needles into the desired depth. It would be dangerous when it is coupled with a lower power machine when there is incomplete penetration of the needle, leading to treating a level shallower than intended depth. This could result in thermal damage to the epidermis leading to burns and PIH.
The make of the needles are as important as blunt needles increase the resistance of penetration and can result in more mechanical damage to the epidermis leading to increased downtime. Besides, increasing resistance of penetration could likewise result in insufficient power for the machine to drive through the needles, resulting in similar side effects of burns and PIH ( Post-inflammatory hyperpigmentation ). The needles need to be well made to remain sharp throughout the entire procedure to minimise this risk.
Manual versus Mechanical insertion
With mechanical insertion, the user variability is reduced – particularly operator fatigue. However, it is also not always true that mechanical is definitely better than manual insertion as there are MANY systems we know that have underpowered motors, which are unable to overcome the resistance of the skin to get to the desired treatment depth, resulting in added risk and suboptimal results.
Bulk versus Fractional heating mechanism
Bulk heating mechanisms result in a more uniform distribution of heat, creating a bigger coagulation zone. It can translate to better results. However, the downtime is longer and the risks are considerably higher. When the heating mechanism is fractionated, it means that unaffected tissue adjacent to the treated area creates more rapid healing and safer treatments.
Upon considering all the above factors and each characteristic of micro needling RF available, we have chosen our machine for the following reasons:
Insulated & non-insulated , well made gold-coated needles
Adjustable needle depth
Highly powered motor
Fractionated heating mechanism
One of the most well researched micro needling RF with consistent, reproducible results
Designed to enable smoother penetration minimising downtime and discomfort
Like in all machines, having the best machines doesn't always guarantee you the best results! The experience of the operator can affect the the results of a micro needling RF session
Technique of operator – if the operator does not hold the device perpendicular to the skin, the penetration will be uneven resulting in uneven distribution of coagulation zone and increasing the risk of burns
Choosing the appropriate treatment parameters
depth of penetration for the appropriate indication
Judge the resistance of the tissue and adjust the depth accordingly – the operator may choose to set the depth slightly higher than the intended depth to account for the increase in skin resistance at particular areas
Pulse duration and energy for the respective indications and depths – choosing high energy setting at superficial depths increases the risk of PIH and prolongs downtime
How much does Radio Frequency Micro Needling Cost?
The average cost of medical micro needling RF like Morpheus8 – ULTRAcel – Focus Dual – Infini RF – Secret RFranges from £500 to 1500 per session. The final cost depends on your geographical location, practitioner, and skin condition. Since you'll need at least 3 sessions, you can expect to spend at least £1500 to £4500.
MICRO NEEDLING WITH RADIO FREQUENCY TREATMENTS IN LONDON
There are numerous machines which provide similar results using similar technology. They all have their own plus and minus points. Some of these treatments include: Morpheus8 – ULTRAcel – Focus Dual – Infini RF – Secret RF
What is Morpheus8?
Morpheus8 is the name of the device that is used in this treatment. Morpheus8 combines radio frequency technology and micro needling for fractional resurfacing, which will stimulate the production of collagen. The device will target your skin's deeper layers, and so the building blocks will reorganise themselves in an anti-aging process that is natural. The dermis will experience little to no damage as a consequence, and the result is an effect that is extremely uniform.
The Morpheus8 device itself has been revolutionary because it is the first and only full-body fractional technology for SARDS, which is sub dermal adipose remodeling. There are a number of key benefits that are associated with this.
There are a number of different areas of the body that are going to benefit from this type of sub-dermal renewal. This is why a consultation is important, as everyone is different and your practitioner will be able to provide their recommendations on the treatment based on your current skin condition. Areas of the body and face that have acne scarring, discolouration, or wrinkles are ideal for this sort of treatment. The neck and face are two of the areas that Morpheus8 most commonly treat. A lot of people are also treated in the abdominal area, as this treatment is beneficial in terms of tightening any skin that is loose because of underlying fatty tissue.
Which areas can be treated with Morpheus8 radio-frequency skin-needling?
The Morpheus 8 can be used to treat skin on almost any part of the body. Some Common areas include:
Face, where it is the gold standard in lifting jowls, correcting fine lines and wrinkles and smoothing acne scarring.
Neck, to tighten sagging, tired neck skin.
Décolletage, to tighten loose skin that has formed on the chest and cleavage.
Abdomen, this is especially the case after pregnancy and weight loss
Upper arms
Above knees
What are the Benefits of Morpheus8 treatments?
Stimulates collagen production
Extremely uniform effect
Safe on all skin tones
Deep and safe fractional treatment
How Does Morpheus8 Compare To Other Microneedling Treatments?
The Morpheus8 is a Subdermal Adipose Remodeling Device, or SARD. This demonstrates a crucial difference between this device and standard microneedling. During a Morpheus8 treatment, the practitioner can adjust the ultra-sharp microneedles to a depth of up to 4 millimeters, deeper than any other microneedling device to date.