Treatment
Dermal Fillers London.
FACIAL FILLERS LONDON
If you are looking to fight the signs of ageing such as fine lines and wrinkles, Dermal Fillers like Juvederm are an effective cosmetic procedure that will transform your complexion and visibly turn back the years. Dermal fillers can replace lost volume to help smooth wrinkles, plump the lips, and restore a more youthful appearance. Skin will look plumper, firmer and smoother, restoring your beauty confidence and making you look skin perfect. Offering you a natural looking lift, collagen levels are restored and your complexion glows.
COSMETIC FILLERS LONDON
We ONLY use the very best cosmetic fillers in the world – JUVÉDERM. These cosmetic fillers are a non-surgical treatment option at our London Harley Street Clinic to add volume to your look and reduce the appearance of lines.  JUVÉDERM® is an MHRA-approved dermal filler that is formulated with synthetic hyaluronic acid, also known as HA. HA is a substance that naturally occurs in your body, and it helps keep your skin healthy by:
Delivering essential nutrients
Hydrating skin by maintaining moisture
Softening skin
Volumising your skin
This is a non-surgical, minimally invasive method to reduce the appearance of unwanted lines and wrinkles by restoring lost volume to the skin. It can also be used to add volume to Lips, Cheeks, Jawline, Temples & Chin.
What Types of Juvederm Are Available at London Lip Clinic?
There are different formulas of this safe, effective injectable treatment to address a variety of concerns and areas. Some of the options we offer include:
JUVÉDERM Volite – A hyaluronic acid gel filler, for use in improving skin quality, improving skin smoothness, treating fine lines, aiding hydration and skin elasticity; with long-lasting results after just one treatment. It is aimed at use on the face, neck, décolletage and hands.
JUVÉDERM Volbella – A hyaluronic acid gel filler, for use in treating fine lines, medium-sized skin depressions and for the enhancement and contouring of the lips.
JUVÉDERM Volift – A hyaluronic acid gel filler, for use in treating deep wrinkles and skin depressions, to improve the contouring to the face and lips, and to restore lost volume.
JUVÉDERM Voluma – A hyaluronic acid gel filler, used for restoring volume to the face, e.g., the cheeks.
JUVÉDERM Volux  – A hyaluronic acid gel filler, specifically designed to enhance, define and sculpt the lower face (jawline and chin), due to how firm the filler is when it sets.
A consultation with Rupesh will help you determine which formula could best treat your area of concern.
BEST DERMAL FILLER CLINIC LONDON
At London Lip Clinic we believe that cosmetic treatments should help you look and feel fresh, not fake. Rupesh has over 10 years of cosmetic injecting experience.
Medically Trained  to inject dermal fillers.
Been injecting fillers for over 10 years – Dermal filler treatments take years to perfect and we never stop learning.
Has Performed 1000's of dermal filler procedures over the years – Perform numerous dermal filler procedure on a daily basis.
Before & After of some patients treated – See our portfolio of before / after photos.
Good reviews – Do your homework on Rupesh and our practice. Read all our positive online reviews on Google. We cant make everyone happy but at least we try!
FREE consultation and option to walk away if anything makes you feel uncomfortable – This is the most important thing to pay attention to. We hear all the times about how pushy various clinics are. If you get an icky feeling that something isn't right during your consultation then walk away. Your gut instinct is often right and you absolutely have the right to get another opinion. You should never feel pressured into having treatment and an ethical practitioner like Rupesh will never make you feel this way.
HOW FILLERS WORK
Dermal fillers made with Hyaluronic acid like Juvederm work by attracting water to the area where it has been injected to increase volume. As a result it will
Smooth out lines around nose and mouth (a.k.a. marionette lines, smile lines, nasolabial lines etc)
Enhance & restore volume to sunken cheeks or temples
Diminish vertical lip lines ( a.k.a. smokers lines )
Plump & enhance the lips
Smooth out a chin crease
Improve symmetry among facial features
THE RIGHT FILLER
There are a number of options when it comes to choosing the correct dermal fillers. Different brands of fillers are made with different active ingredients, hence providing us with the ability to customise your treatments to address specific areas and achieve optimal results. Each dermal filler product is uniquely formulated to have a certain texture, density, and injection depth, which means that certain fillers work better for certain areas of concern. We use exclusively use the best brand of fillers called Juvederm Vycross fillers at our London Lip Clinic. The reasons being:
the Juvederm Vycross filler itself is a lot smoother, making the injection easier and less painful for you, the patient.
there is less swelling post-treatment.
the results feel and look very natural.
the results will last longer.
COST OF DERMAL FILLERS
The cost of dermal filler injections vary depending on the product or products used and the extent of your treatment. We generally use the best brand of dermal filler called Juvederm Vycross range in our clinic and prices start from £250 for 1ml. Current prices are listed on our prices tab.
BEFORE DERMAL FILLER TREATMENT
Your initial treatment will begin with a consultation, during which you will meet with Rupesh to discuss your concerns and goals. In order to reduce the amount of bruising and swelling after your treatment we make a few recommendations about how to prepare for fillers.
One week before your dermal filler treatment, avoid any blood thinning over-the-counter medications such as aspirin,ibuprofen, and Nurofen. Also avoid any supplements, including St. John's Wort, Gingko biloba, primrose oil, garlic, ginseng, and Vitamin E as these all can thin your blood.
Three days before your dermal filler appointment please avoid topical products such as Tretinoin (Retin-A), Retinol, Retinoids, Glycolic Acid, or any "anti-aging" products. Also avoid beauty treatments like waxing, bleaching, tweezing, or using hair removal cream on the area to be treated. Do start taking Arnica two days prior to the procedure. (This is not required, but it will help to lessen bruising.)
The day before the treatment we recommend not drink alcoholic beverages.
Generally if you have previously suffered from facial cold sores, there is a risk that the needle punctures could contribute to another eruption of cold sores. Please let us know if you are prone. We do not treat with dermal fillers if you are pregnant or breastfeeding, are allergic to any ingredients, or suffer from neurological disorders. Please inform us if you have any questions about this prior to your treatment.
DURING DERMAL FILLER TREATMENT
Just before the actual dermal filler treatment, your full face will be cleaned, and you may be given a topical anaesthetic or a dental block to numb the area prior to injection to reduce the discomfort during and after your dermal filler treatment. The dermal filler we use ( Juvederm Vycross ) also contain lidocaine, a mild anaesthetic. Rupesh will then inject with either a needle or a cannula the precise amount of dermal filler strategically beneath the skin.
Depending on the product we use and the areas we treat, you should be able to notice results immediately after receiving dermal filler injections. Some patients experience mild bruising and swelling, but these are temporary and should subside over the days following treatment.
AFTER DERMAL FILLER TREATMENT
After finishing the dermal filler treatment Do NOT, touch, press, rub, massage or manipulate the filled areas for 6 hours after treatment. This can cause irritation, sores or possible scarring. You can apply an ice pack and Arnica topically (Arnica + Bromelain tablets are both natural supplements to reduce bruising).
Avoid drinking alcohol or doing strenuous exercise on the day or 48hrs after, as it may result in additional bruising. The swelling and redness will resolve in the next few days until then, avoid intense heat in the treated area(s). This includes sunbathing, tanning, saunas, hot tubs, or hot wax. Also avoid extreme cold such as skiing or other winter sports.
Minimise movement of the treated area(s). However, if there is a visible bump, you can massage the area. Depending on the areas treated and the product used, you may feel "firmness". These areas will soften and settle with time (usually 1-2 weeks).
HOW LONG DERMAL FILLERS LAST
The length of time a dermal filler will last in the injected site depends on what areas were treated, and with which specific product. Cosmetic fillers live Juvederm are long lasting, but not permanent. Juvederm will last anything from 6 to 24 months depending on the areas treated and your bodies metabolism.
DERMAL FILLER AREAS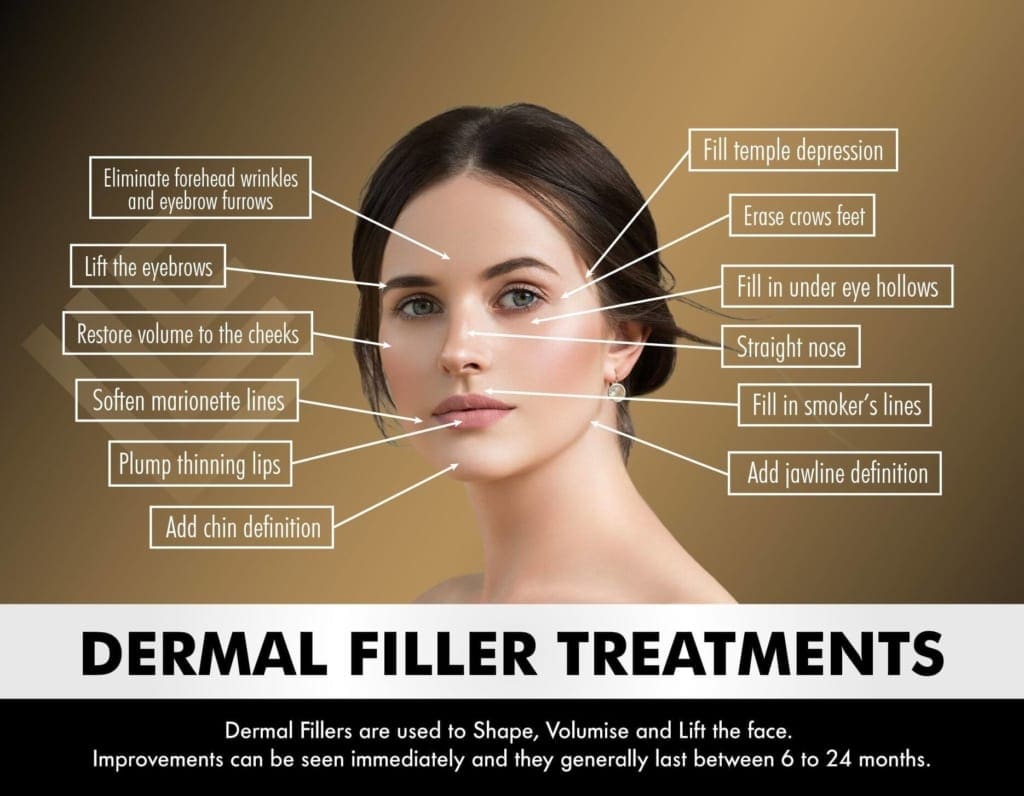 Dermal Filler Treatment
LIP FILLERS
Luscious lips draw attention and show passion.  If you like plumper lips, then injecting dermal fillers into the lips at London Lip clinic will give them a fuller appearance. Getting lip fillers is considered 'lip augmentation', and it is very popular because it is quick, relatively comfortable, easy, and the visible enhancement. Lip fillers at our clinic are injected using a special cannula technique. MORE
TEAR TROUGHS (UNDER EYE CIRCLES) (UNDER EYE FILLER)
When your eyes look tired even when you're feeling rested, tear trough filler correction can give you a more refreshed appearance. Under eye bags, dark circles and a hollowed-out look under the eyes can make you look exhausted and age your face. Tear trough filler can help fix the problem area under the eyes.
CHEEK AUGMENTATION
Dermal fillers such as Juvederm Voluma can be used to temporarily provide cheek fullness and enhance facial contours. Although results are temporary and require maintenance treatments, the procedure is minimally invasive and is associated with a shorter recovery period. Cheek Fillers like Juvederm Voluma can last up to 24 months.
CHIN FILLER
Chin enhancement with dermal filler is a procedure that can be done in the London Lip Clinic without the risks and downtime that comes with surgical chin augmentation. Dermal fillers injected into the chin region can help to correct a variety of unwanted chin concerns. Expected Results after Chin Augmentation with Fillers:
Improved chin projection
More defined and contoured chin
Potentially decreasing the appearance of a double chin
Diminished chin "dimples" or "butt chin"
Diminished jowl appearance
Better overall facial and neck harmony
JAW LINE FILLER
A weak jawline, or a sagging jawline, can now be treated with minimal-invasive treatments such as a jawline filler to help you look younger and maintain your natural beauty. A sharp jawline is associated with a youthful appearance. A less defined or sagging jawline is related to older age. With ageing, the jawline often loses its sharpness, due to bone resorption as well as a loss of volume higher up in the face.
NOSE FILLERS – NON-SURGICAL RHINOPLASTY
This procedure involves injecting dermal fillers to correct minor cosmetic imperfections in the nose. We use Juvederm Voluma dermal filler injections to fill in the dents and create the illusion of structural changes that make minor improvements to the overall appearance of the nose. The dermal fillers used in this procedure are temporary so patients need to have touch-up procedures periodically to maintain the results of the treatment.
NASOLABIAL FOLD FILLER
The nasolabial folds can be improved by injecting them directly with dermal fillers. The process is generally straightforward. The ares to be treated is carefully marked and photographed and then inject the nasolabial folds are injected usually with Juvederm Volift using a cannula technique. The results are immediately visible and usually last 6 months or longer.
NON-SURGICAL FACE LIFT
An ageing face and sagging skin can really sap the confidence that we have about our looks. Dermal fillers are used to restore and reshape facial volume to give a more youthful look. This can help to achieve a mini face lift by adding volume to achieve skin tightening.
Our range of Dermal Fillers
Our treatments are carried out using JUVEDERM VYCROSS range of Dermal fillers.
The three include:
JUVEDERM VOLUMA
Usually used to restore volume on the face eg Temples, midface, chin & jaw
JUVEDERM VOLIFT
Usually used to correct asymmetry, contour deformities, volume loss in lips, cheeks and lower face.
JUVEDERM VOLBELLA
Usually used for fine lines. Enhancement of lips etc.
What To Expect During Your Consultation At London Lip Clinic?
You will meet with Rupesh, our highly trained aesthetic practitioner at 8 Harley Street, London for an in-person assessment of your skin.
Rupesh, your highly trained and experienced practitioner will discuss the following with you at this consultation:
The best options for treatment for you given condition, and the results that you would likely achieve with each treatment
An explanation of the treatment or treatment plan
Go through your past medical history
Answer any questions you may have
Invite you to return back to the clinic if required to see us after your treatment
WHERE IS THE LONDON LIP CLINIC LOCATED?
London Lip Clinic is located at 8 Harley Street, Marylebone, London W1G 9QY.
We are accessible by all major bus routes that past Harley Street, as well as a ten minute walk from Bond Street, Oxford Street & Baker Street tube station.
Local pay parking is available on Harley Street and just around the corner from the Clinic at Q-Park Harley Street and Q-Park Oxford Street.