BROW LIFT: Refresh The Entire Upper Face With Strategic Placement of Botox to create a BROW LIFT In London.
Lifting Eyebrows with Botox
Botox eyebrow lift procedure or a non-surgical brow lift is a procedure for patients to smooth out skin wrinkles around the frontalis muscle on the forehead and lift droopy eyebrows (reduce the appearance of upper eyelid hooding). A Botox brow lift treatment works well on all skin types and colours. The treatment lifts skin around and above the eyebrows, moving the natural arch slightly higher. The muscles above the brows are temporarily frozen in place. The eyebrows remain in a lifted position until the Botox injections wears out, in anywhere from three to four months. Maintenance treatments are required to keep the muscles above the eyebrows and forehead "frozen" so the droopy brows remain in a lifted appearance.
How does Botox Brow Lift work?
The Botox eyebrow lift treatment is conducted by Rupesh, experienced medical and skin professional to ensure proper placement of Botox to the eyebrow. When the eyebrow lift procedure is conducted by an inexperienced or untrained person, the patient may find his or her brows uneven, get an eyelid drooping after Botox or have a perpetually surprised look. At your pre-treatment consultation, Rupesh will do a facial analysis. If you're suitable for a non-invasive brow lift, we inject the original Allergan Botox to temporarily freeze the muscles over and around your eyebrows. The BOTOX injection can create a raised horizontal brow, a raised arched brow or the tail of the brow can be raised. You'll need to discuss your goals with Rupesh during the Botox eyebrow lift consultation.
Where is Botox injected for Brow Lift?
Botox which is an anti-wrinkle injections needs to be strategically injected in the right areas around the eyes and eye brow to ensure an even look when doing a brow lift.
Rupesh will start by marking out the area or areas to be treated on your skin on the forehead. You'll feel a quick pinch as he injects the Botox injection into the forehead muscles necessary for pulling the eyebrows upwards and creating the beautiful lift. Overall, treatment only takes between 10 and 15 minutes. You'll notice an improvement in two to three days, with most patients seeing full results after the botox injection in seven to 10 days. The muscles above the eyelid and eye area, now weakened by the injection, smooth away grooves and frown lines. The relaxed muscles at the top of the eyebrows give the forehead and eyebrow area a more youthful, toned appearance.
How long until I see results from Botox Brow Lift?
Patients who are looking for a more mild-to-moderate brow lift, may be able to achieve excellent results with a non-surgical brow lift procedure. Other patients may need a surgical brow lift cosmetic procedure to correct their brows. A Botox brow lift will remain effective for about 3 months depending on how your body responds to the toxin, and after injecting the area with Botox,  the eyebrow lift treatment takes effect in 5 to 14 days.
How long does Botox last for Eyebrow Lift?
Once results appear after the eye brow lift procedure, they will last about three to four months. At London Lip Clinic, we recommend to continue to keep coming back for touch ups to maintain your results every three months.
How much does Botox Eyebrow Lift cost?
The consultation for an Eye Brow lift procedure with Rupesh takes about 10 to 15 minutes. After he completes a thorough evaluation of your brow area, we provide cost information for a non-surgical Botox brow lift. Most patients combine a Botox Brow Lift with other wrinkle reducing treatment areas such as the horizontal lines and wrinkle of the forehead, "11's" between the brows and crow's feet which would increase the number of total units needed. Our price for Botox Brow Lift can be found on our treatment price page. This is way cheaper than going under the knife to have a surgical brow lift!
Botox Eyebrow lift Before and After Pictures
With a Botox brow lift procedure, Before and After facial photos can help you to see what the treatment results will look like realistically. Just make sure you choose a medical clinic to have your brow lift procedure and before and after pictures should play a part in your decision-making process.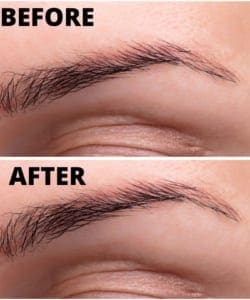 After Care for Eye Botox Brow Lift treatment:
Avoid intense exercise or any strenuous activity after the Brow Lift injection.
Don't touch or rub the injection area after the Brow Lift procedure.
Avoid drinking large amounts of alcohol after the Brow Lift treatment.
Don't get a chemical peel, facial or microdermabrasion after your procedure.
Use ice packs to control bruising at the injection site.